What is lead nurturing?
Lead nurturing is the art of turning strangers into loyal customers. It involves businesses building strong relationships with people who have shown an interest, and communicating with them in the right place and at the right time to help move them closer to taking a desired action.
However, lead nurturing goes further than sending emails starting with "Hello again, [Name]!". In reality, it involves looking after every single user that comes into contact with a business, and then accompanying them as they pass through every single stage of the customer lifecycle. From anonymous users browsing a website for the first time, all the way through to convincing loyal customers to spend more, and getting them to provide feedback to help a business improve their online experience, lead nurturing is a world in itself.
The growing importance of lead nurturing in eCommerce
With more information, options, and channels to connect with businesses, people are more empowered than ever before. As a result, businesses need to work harder to create connections with users, convert them into customers, and earn their loyalty. And, if you're an eCommerce business, you have an even tougher job on your hands! 
Not only do you have to convince people to choose your website over all the options available, but once you've got them there, you also need to avoid losing them along the way to the millions of distractions we constantly encounter online. In the flash of a second, a potential customer could leave your website, abandon their shopping cart and, heaven forbid, never show their face again. 
With this in mind, eCommerce businesses need to be willing to go the extra mile when it comes to defining a lead nurturing strategy, to ensure they are doing everything in their power to keep people on board with their brand, right from the very first visit.
In this article, we'll share tips on how your eCommerce business can successfully nurture all of your customers every step of the way, including how to: 
Convert anonymous users into potential customers

Encourage subscribers to make their first purchase

Convince customers to come and back buy again

Listen to what your audience has to say
Along the way, we will share real examples from our clients of how they implemented their own lead nurturing strategies through the use of automated workflows to pave their way to success.
Convincing anonymous users to make themselves known
Did you know that over 70% of eCommerce traffic is made up of strangers who browse your website, check out your products, but disappear into thin air before identifying themselves? Many businesses assume that there is no way to communicate with this anonymous traffic, and therefore impossible to nurture them enough to become known and paying customers. But they are wrong! 
With the right mindset, technology and data, you can easily identify and understand the behaviour of each anonymous user, and then use those powerful insights to encourage them to make themselves known through an effective communication strategy.
In the case of our client Cajadecarton.es, a leading brand for online sales packaging, they used our technology to track their anonymous traffic and implement a workflow to display a newsletter sign-up form on their eCommerce website with the objective to encourage unknown users to provide their email.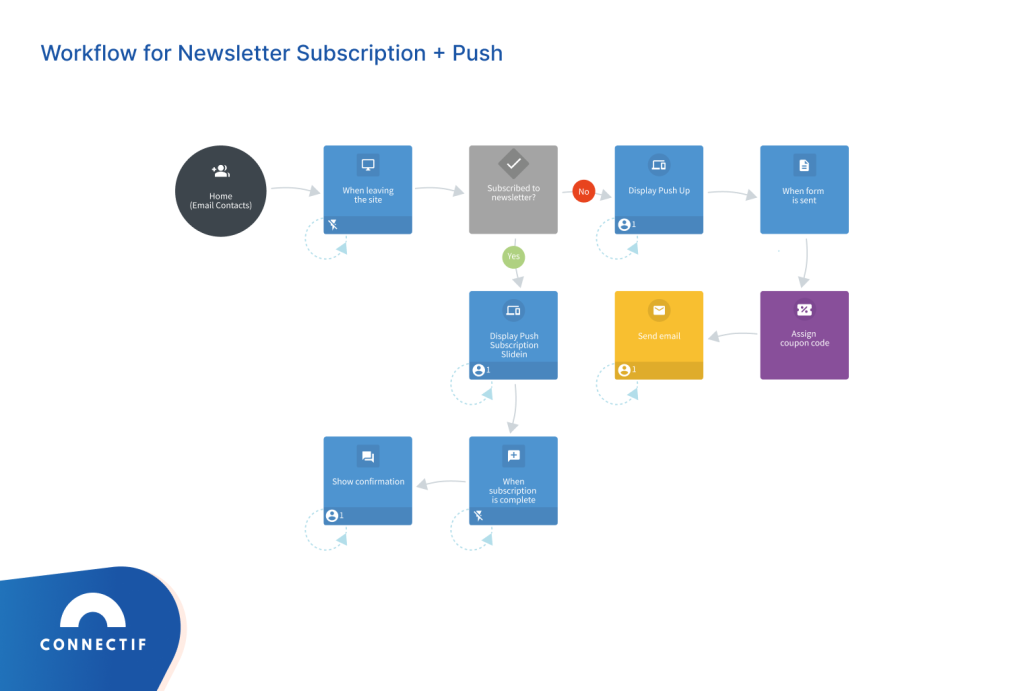 This workflow implemented by Cajadecarton.es served to check the subscription status of each website visitor. If anonymous, the workflow would automatically launch a pop-up encouraging the user to subscribe to their newsletter, hence providing their email address. If a user is already subscribed to the newsletter, the workflow would display a different pop-up encouraging them to also opt-in to push notifications. As a result, the company grew their subscriber base by 55.8%. 
With new subscribers on board, let the nurturing begin!
Encouraging new customers to make their first purchase
Once you have caught the attention (and contact details!) of an anonymous user, the next step is to tempt them into making their first purchase. First-time buyers are often cautious and hesitant to buy a product from a new business, no matter how appealing your products may be. 
As a result, it's common for these potential customers to make their way through to checkout, and get spooked or simply change their mind at the last minute and abandon their cart. In fact, 7 out of 10 online shoppers leave their cart without completing their purchase. If you ask us, this sounds like an opportunity for nurturing your potential leads… 
Rather than seeing an abandoned cart as a failed sales opportunity, consider it as a great moment to offer a helping hand to guide these potential customers towards the light (and checkout!). There are plenty of easy and cost-effective strategies to encourage potential leads to come back and buy what they left in their cart, but let's go back to the case of our previous client and see what tactic they used.
Through Connectif, Cajadecarton.es were able to identify in real time if a subscribed user was about to drop-off before making a purchase. They then reacted instantly by sending out emails to these subscribers to remind them about the products they had left in their cart. 
As a nice touch, the company also shared a discount code with their customers to show them just how much they would appreciate their business…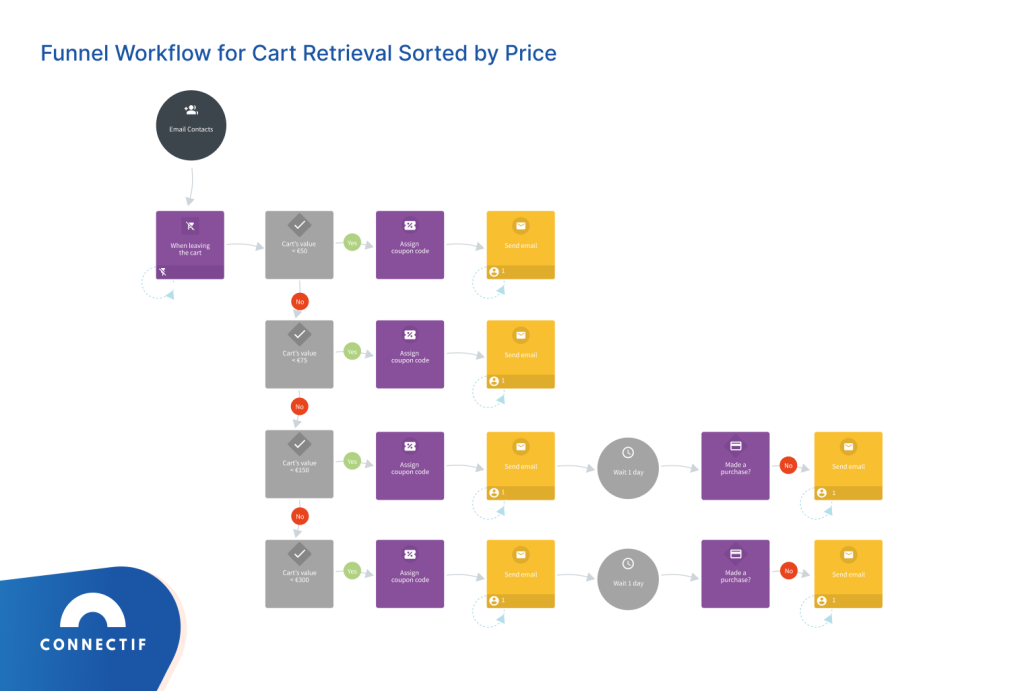 This workflow shows how Cajadecarton.es set up these automated emails for subscribers who had abandoned their cart. The cart's value was checked and a discount code was assigned depending on that value. After a one-day wait, users with more products in their carts were sent a second email to reinforce the message and remind them that it isn't too late to complete their purchase. As a result of these emails, they saw plenty of potential customers popping back to their website, which helped increase the retrieval rate of abandoned shopping carts by an impressive 13%. That's a lot of cardboard packaging!

Read the full case study with Cajadecarton.es here.
Incentivizing customers to return and make another purchase
Once you have accomplished your first sale from new customers, you may think your work is done. But in reality, the nurturing party is only just getting started. 
With the visibility of what products they bought from your business, you have the power to identify the interests and preferences of your new customers. Armed with these insights, you can strengthen your relationship with each customer through relevant and personalized communications and keep them coming back for more! 
For example, you can send personalized product recommendations to them and sweet-talk them back to your website. While they are browsing, you have the opportunity to keep up the conversation and show your customers just how much you know and care about them. With a data-driven platform like Connectif, you can follow each customer's every move and interaction on your website, and respond in real time with useful messaging about similar products, exclusive offers, or incentives that are too good to miss! With such a carefully curated experience, your customers are not only going to feel cherished but also tempted to go ahead and make another purchase. 
Our client, Pienso y Mascotas, did exactly this. The Spanish supplier of pet products tracked their customer's journey in real time across their eCommerce website, to gain real time insights about their purchase intentions. Based on the products that their customers were checking out, they responded instantly with another helping hand in the shape of related product recommendations, to help their returning customers discover the rest of their catalogue and buy more products.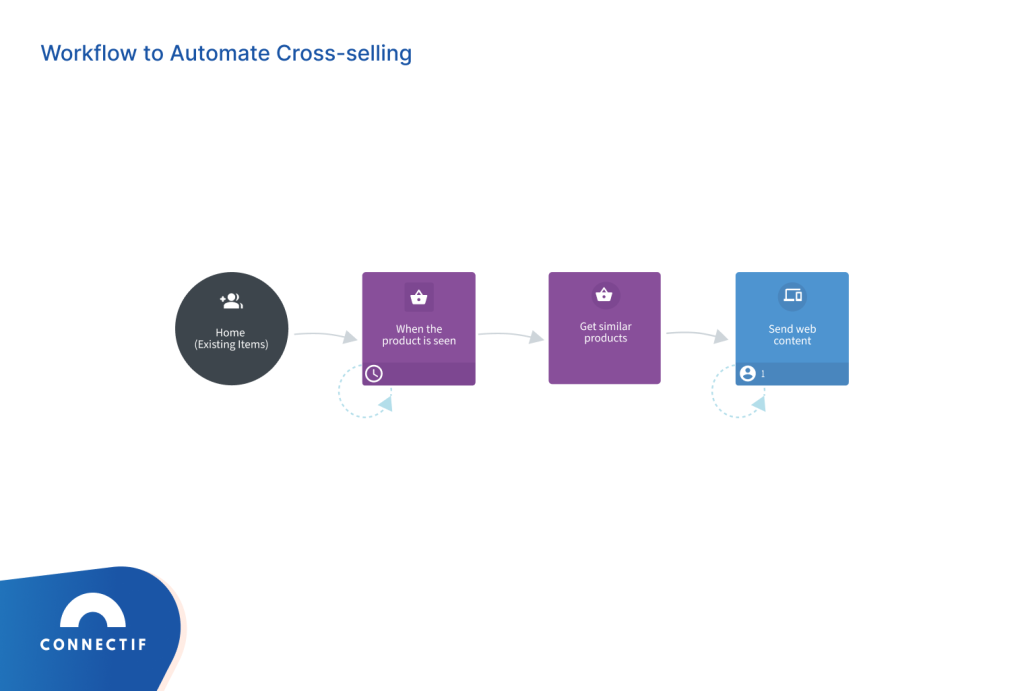 With this workflow, Pienso y Mascotas implemented an automated banner populated with recommended products when a customer visited a specific product page to encourage cross selling.
As an added incentive to treat their customers (and subtly boost sales), Pienso y Mascotas implemented a second workflow in order to offer their customers free delivery when spending over a certain amount by displaying a window on their eCommerce website telling customers how close they were to getting the perk.
Above, you can see the workflow they implemented to display the free delivery message. The combination of these two strategies resulted in an 18% increase in average order value, happy customers, and even happier furry friends. Win-win for everyone! Learn more here.
Giving valued eCommerce customers a voice
So, we have shared how to look after your new customers, and encourage sales and recurrence through personalized messaging that keeps them coming back for more. What else can you do to reinforce how special your customers are to your business?
Our final suggestion in this article for nurturing customers is to create two-way communication with them. Not only will giving your audience a voice help them feel empowered and valued by your business, but depending on the feedback they provide, it can also be highly beneficial when it comes to finding ways to improve the customer experience you offer. 
In this sense, implementing a strategy to gain customer feedback is a great way to nurture both your customers and your business. Getting valuable user feedback from your most loyal customers is one of the most effective things an eCommerce business can do to detect customer pain points, improve the online shopping experience, and discover new ways to improve performance and maximize sales.
In the case of Listo Mundo Cerámico, they implemented an automated marketing strategy to share a customer satisfaction survey with paying customers as a way to receive insights about real customers' experience when making purchases on their website. Our client used Connectif to activate an automated send out to customers after making a purchase, and another once their order had been delivered, in order to provide their customers with the opportunity to evaluate both stages of the customer journey.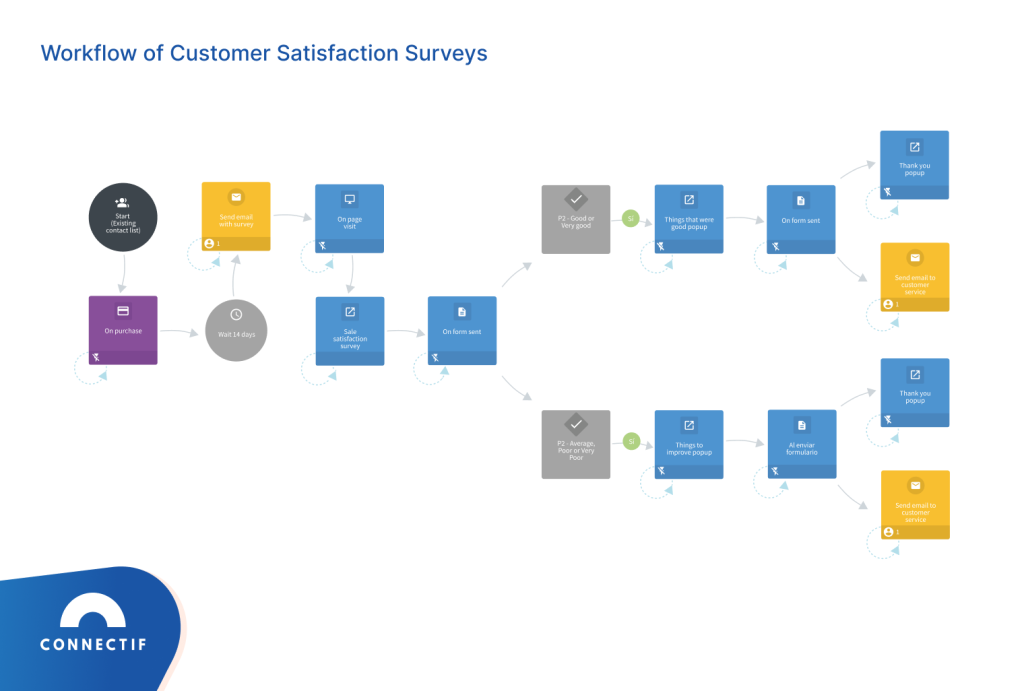 Here you can see the workflow they implemented to receive customer feedback. The surveys encouraged users to provide valuable feedback about areas such as navigation,  product information, the payment process and cross-device usability. 
With the feedback, both positive and constructive, the company identified actionable pain points to improve their customer experience, while also helping drive home to their customers how much the business truly cares about them. 

Find the full case study here
Not sure where to begin?
These are just a few ideas inspired by some of our clients that we hope will help you on your way to creating an effective, end-to-end lead nurturing strategy for your eCommerce customers. With Connectif, there is no limit to the amount of workflows you can create. With our no-code marketing automation platform, you can drag and drop omnichannel user journeys and define brand new communication strategies that best suit your business objectives in no time! 
Even if you're a marketer just entering the world of automation, rest assured we have over 100 predefined workflow templates to suit every strategy you may be looking to implement, including lead nurturing! As you can tell, we like to look after our customers too 😉 
As a spoiler, here is an example of a workflow template for lead nurturing available in Connectif. This useful workflow helps clients to encourage sales from subscribed customers that have not yet made a purchase, through the use of emails with their most popular products and discount coupons.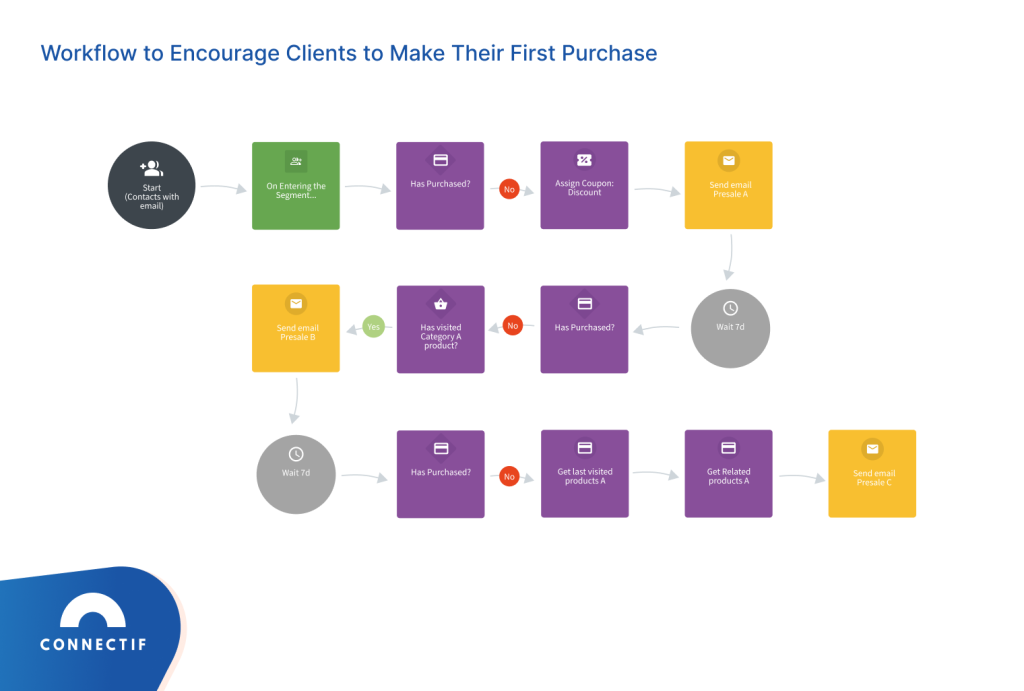 Interesting, eh? 
To learn more about how Connectif can help your marketing team quickly and easily implement effective lead nurturing strategies in your eCommerce business, why not request a demo today? We would love to see how we can help you delight each and everyone one of your customers and take your eCommerce business to the next level.